5 Return to work
---
5.1 Worker RTW obligations | 5.2 Employer RTW obligations | 5.3 Employer RTW compliance | 5.4 Employment obligation period worker advice | 5.5 Approve occupational rehabilitation services | 5.6 RTW questionnaire | 5.7 RTW case conferences | 5.8 RTW with injury employer | 5.9 RTW with new employer
---
In most cases a worker can remain at or return to work, with medical support. When this does not happen, early and appropriate intervention is needed to achieve a RTW outcome by:
RTW hierarchy
Initially, occupational rehabilitation (OR Occupational Rehabilitation) services should be focused on a return to work with injury employer. Only after all possibilities have been explored at the injury workplace or at other workplaces of the injury employer, should the focus be shifted to return to work with a new employer.
An Agent, employer and OR provider must consider the following RTW hierarchy when determining a RTW goal for a worker: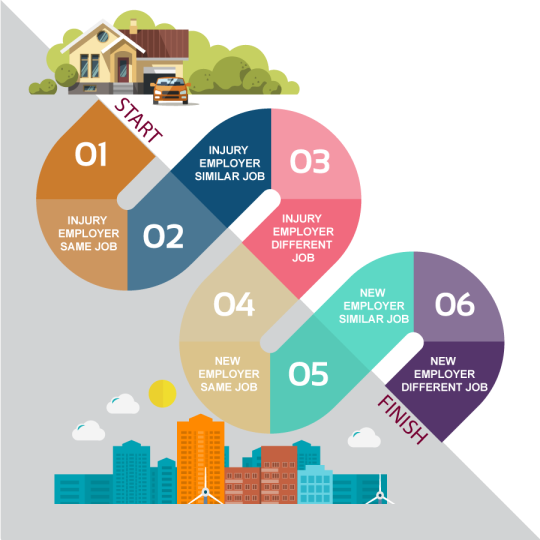 Agent case management processes to support return to work
An Agent systematically reviews the worker's circumstances to determine the worker's CWC Current Work Capacity as often as is necessary and particularly when new relevant medical evidence is received.
Agent consideration must also be given to whether OR services may help the worker to return to work.


Early claims management
The overall objective is to achieve a return to work early in the life of a claim by reviewing strategic factors at critical times and identifying and finding solutions for any actual or perceived RTW barriers. A systematic review and conferencing of files by Agents at strategic points can facilitate early, safe and sustainable return to work.
Systematic file reviews may include:
case conference with the worker and employer
case conference or review with other parties (such as the THP

Treating Health Practitioner, OR provider or other stakeholders)
review by Agent staff other than the claim owner.
Systematic reviews should be aligned to claims events, injury recovery or RTW events. Claims should be reviewed regularly to ensure the plan remains appropriate, with a maximum of eight week intervals from the previous review.
RTW management
A primary focus of managing claims should be to improve safe and sustainable RTW outcomes and to promote the right intervention at the right time.
This can best be achieved by the Agent:
systematically reviewing claims in line
considering the unique circumstances of each claim identifying and finding solutions for any actual or perceived RTW barriers
ensuring that a strategy is developed, monitored and maintained for each claim
ensuring the appropriate medical and OR service interventions occur at the right time.
See: Medical exams, certificates & reports
Resolve RTW issues
If an issue about a worker's return to work arises, the employer and worker must attempt to resolve the issue.
Resolve issue in line with the agreed RTW issue resolution procedure at the workplace. If there is no agreed procedure the employer and worker must attempt to resolve the issue in line with the RTW issue resolution procedure set out in the Ministerial Direction.
See: Steps to resolving return to work issues | Ministerial Direction - RTW Direction Issue Resolution Process | Compliance Code 3 of 4: Return to Work Information