2.5 Receive a claim
---
2.5.1 Worker notifies Agent of a claim | 2.5.2 Claims lodged direct | 2.5.3 Check a claim | 2.5.4 Claim service and lodgement dates | 2.5.5 Claim registration details | 2.5.6 Claims by certain types of workers | 2.5.7 Further or continuing injuries
---
2.5.1 Worker notifies Agent of a claim
A worker may notify the Agent or WorkSafe that they have given or served a claim for weekly payments on their employer by sending copies of the worker's injury claim form and Certificate of Capacity Ongoing certificate is issued for up to 28 days and can be issued by a: medical practitioner, osteopath, physiotherapist, chiropractor..

The Agent needs to update ACCtion with information obtained from the employer paperwork including:
employer received date
employer forwarded to Agent date
Agent received from employer date
employer liability flag and reasons.
See: Claim service & lodgement dates
2.5.2 Claims lodged direct
Depending on the circumstances, a worker can lodge their claim direct with the Agent or with WorkSafe. If claims are lodged directly on WorkSafe, WorkSafe Advisory Service will forward the claim and any related documents to the employer's Agent.
Claims may not be lodged directly using the MyWorkSafe Portal.
Claims lodged directly by workers need to include both Parts A and B of the Worker's Injury Claim Form, however Part B does not need to be completed by the worker.
The worker may lodge a claim with the Agent or WorkSafe if they become aware that their employer either:
has not and is unlikely to forward the claim to the Agent in the time required or
is refusing to receive the claim or
cannot be identified after the worker has taken reasonable steps to identify the relevant employer or
cannot be found after the worker has taken reasonable steps to find the employer
is dead, or is under external administration or has ceased to exist.
Assessing if direct lodgement applies
The Agent must contact the worker to determine whether direct lodgement applies if a claim has been lodged directly with the Agent.

If direct lodgement does not apply, the Agent should return the claim to the worker and:
inform the worker that the claim must be given to or served on the employer
advise that the period of time within which liability is to be assessed will not start until the claim has been given to or served on the employer or in the case of a physical injury only claim for medical and like expenses only, until the employer reaches the medical excess threshold..
What the worker should do
If the claim has been incorrectly lodged directly with the Agent or WorkSafe , the worker must give to or serve the claim on the employer as soon as possible.
What the employer should do
When the employer receives the claim form from the worker they:
sign and date it
must forward it to their Agent as follows: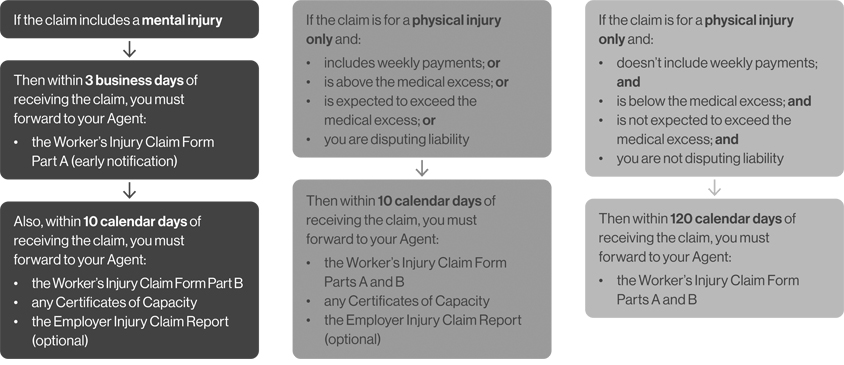 Timeframes to determine liability
If a worker lodges their claim with WorkSafe in circumstances where direct lodgement applies, the timeframe for determining liability starts on that day.
See: Time limits to determine liability